Hunting for the best beginner surfboard on the market right now? We've got you covered. This guide runs through the best buys for those just starting out…
So, you're on the hunt for the best beginner surfboard? We've got you covered. First off – welcome to the world of surf. You won't regret being here. We love you for being here. Yewww! Now, to the gear…
This guide will run through seven of the hottest beginner surfboard options available right now at the click of a button. We've gone for a broad spectrum of sticks (that's a super-cool word for surfboard, in case you were wondering). Our list has longboards for those who want to glide over mellow waves and foam-built beaters that are suited to absolute novices who see themselves getting thrown around the whitewash.
We've also steered clear of only offering rental-style beginner boards that will last only a few months. We think it's better to go with a starter board that will let you push through to at least lower intermediate and encourage you to try a few turns or extra skills on the way. Our top pick is just that, with a good mix of buoyancy and manoeuvrability.
Anyway, let's get stuck in…
What features do we look out for in beginner surfboards?
We'd say there are three key aspects to beginner surfboards; the most important things to look out for when you come to buy your first ever ride. They are:
Length – You're after something longer than the things you see the pros riding. Longer isn't necessarily better, but for novices it brings extra paddle power, it's easier to move through the water, and makes it easier to balance on when you do get on the wave (and you will, don't worry!). Generally speaking, anything around the 7-9 foot mark is in beginner range.
Volume – You'll also be looking for something with that has a higher volume than performance boards. Volume basically means the size of the board. It's measured in liters. Proper beginner surfboards tend to start at around 80-85 liters in the 8-foot area.
Material – The best beginner surfboard options tend to be made from more forgiving materials than fibreglass. Really, there are two choices, foam or epoxy.
We might use affiliate links in this post. Basically, you click em' and we get a little something from your booking or purchase. They help us keep offering more and more in-depth surf guides to awesome places all around the globe. So, thanks for that!
A quick-jump guide to our best beginner surfboard buys
Tahe Bic 8'4 Magnum Surfboard – Our top pick of the best beginner surfboard buys for 2022
Tahe, formerly just Bic, are our consistent pick for the best beginner surfboard makers out there. We've got very fond memories of paddling out on one of these bad boys not having a clue what we were doing and eating more whitewash than a beached jellyfish. Those were the days. But it's not just our nostalgia that puts them front and center. This make has been a go-to for learner surfers for decades.
First off, the construction is big. Here, you're looking at over eight foot of length and a whopping volume of 72 liters. That's almost triple your usual sub-6-foot performance Pyzel. In other words, you get a huge amount of buoyancy from the Tahe Magnum; enough to supercharge your paddles (perfect if you haven't had a chance to work those upper arm muscles yet) and help you glide into even the smallest of waves.
More than that, Tahe have simplified the whole purchasing process here by opting to throw in the fins gratis. They've gone with a three-fin format with a full-sized FCS Centre Fin Box and two side fins. That's just about right for getting good balance on the board and helping keep things steady while you work on the pop up.
But the Tahe isn't only for beginners. And this really is the kicker here for us. You can use this to get out of total beginner mode but also as an improving intermediate. Hell, we even dust ours down for smaller, more mellow days even now. It's just a fantastically fun ride, with tighter rails than most foam boards that mean you can even get turning with them when the time is right.
Huge volume to make paddling and catching waves nice and simple.
Durable construction that can take a battering.
Really fun even for when you start progressing.
Quite heavy at 7.8kg
Harder – might hurt if it hits you
Coming in 6′, 6'6, and 7′ iterations, this Softech board has a whole load going for it on the beginner front. Most notably, it addresses a glaring problem that's an issue right across the surf-gear industry. Namely, that there's nowhere near enough gear out there catering especially to female surfers, particularly starting female surfers at the more novice end of the spectrum.
Who better to trust to remedy that on the board front than former world number one WSL champ and Fiji Women's Pro winner Sally Fitzgibbons? Yep, the maestro from New South Wales has put her name to this classic Softech stick. It's made from light X-Density EPS Foam and has a classic three-fin thruster setup and a leash included. It's pretty much the full starter pack.
What we love is that the contours of the board have been trimmed a little to bring in the rails and round out the nose. That makes for a streamline product that glides beautifully in the water, something that really lends itself to female learners where the focus is on technique over brute force. Oh yep, and this is a proper foam softop, so it's not gonna' hurt too much if you happen to have a bang.
Tailor-made shape for female beginners.
Designed with help from a female surf pro.
Softop material means it won't hurt if it hits you (too much!).
There's not too much to offer progressors.
Can't change the fin orientation.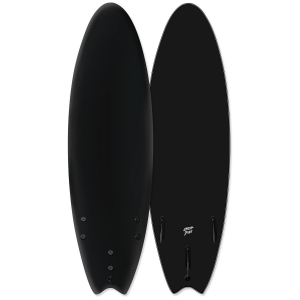 Fish boards look like they're having another moment in the limelight right now, and we don't see any reason not to jump on the bandwagon. There's a lot to weigh up when it comes to tail style, but at the beginner level and at this board length, the fish shape is really about scoring a little floatation boost. That helps with turns and shifts once you've completed the pop up and are starting to go down the line. Basically, it makes it a little easier to start turning and carving through the more sloppy, small-wave conditions that beginners are usually limited to.
That's why we'd rate this one as one of the top choices for beginner surfers who are starting to think about doing niftier things. At 6'6 it's not the biggest beginner surfboard out there, which means there will be extra manoeuvrability on the ride to boot. However, the designers have stuck to the classic three-fin thruster setup, which makes it a great way to ease your way of longer minimals or rental foamies and into shorter territory.
Great on small, sloppy waves.
From one of the best beginner surfboard makers
Some good features to help you progress
Fish shapes don't offer loads on bigger waves – what you doing out back though?
Torq Mod Fun Surfboard – A board to carry you through from beginner to expert
We often hear people say that there's simply no point in dropping $300 on the latest foam top. They say that by the time you're done learning you'll want to be hopping onto an epoxy or a fibre board for the extra guts and movement. We see the logic in that, but still think it depends what sort of surfer you are – occasional riders who can't commit to 10+ sessions a season might be better off with that rental-shop style foamie. But there are also beginner surfboard options for those who will be practicing day in day out until they channel Kelly Slater.
Cue the Torq Mod Fun Surfboard. This is a cracker of an all-level board form long-time beginner maker Torq. It's got the volume and size to help you paddle and catch virtually anything on the whitewash. And it's got the slender rails and narrow shape to make it a darn fun ride 10 years from now when you're ripping it with the crew down Trestles.
We especially like that they've brought a pinch to the nose of the classic minimal shape, helping add more manoeuvrability for fast-improving riders. That will still maintaining a pretty hefty 52 liters of volume on the 7'6″ model, and a nice 41.8 liters even on the smaller sticks.
This will be a fun board to ride even when you're intermediate+
Good literage but with slender rails
Love the blue color
This will be a steeper learning curve to begin with.
Not foam – so could hurt if it goes flying.
When it comes to entry-level boards that have the sole purpose of carrying you through those initial months of getting bashed around in the whitewashed, we think you'd be hard pushed to find anything better than this DMZ square-end. It's built like a proper rental board, with a cut-off square tail that will help balance the deck on the froth. Okay, so it's bulky, but then that's what beginner boards are all about. All it means here is that you're probably going to be looking to upgrade to something slicker before the season is through.
DMZ have given this EPS Foam board a very low rocker profile. That helps to stabilize the ride so you're not cutting in the rails when you finally do master the pop up. They've also cut the weight a touch by going for a bamboo stringer. The stick is available in multiple lengths. We'd recommend the 7ft option for lady learners, the 8ft for beginner men, and the 6ft for the kids.
Light.
Affordable.
Very stable.
You'll almost certainly want to upgrade pretty soon.
Low rocker does not encourage you to start turning.
South Bay Board Co. (or just SBBC) is up there with Catch Surf and Softech as one of the most common softop manufacturers on the scene today. We really rate their stuff because it ticks all the boxes for total beginners, and they've even started making some nifty fun boards for higher-level shredding in recent years (but you'll have to wait a little to get to them!).
The Guppy model is a real scorcher of a starter option that is dead on for complete novices looking to build paddle power and attempt popping on even the smaller whitewash waves. Go for the 8-foot model and you'll bag a whopping 80 liters of volume. That's the highest on this list, meaning SBBC offer one of the most accessible and buoyant beginner options. It's great for everyone from older surfers who think they might lack thrust to groms who want to glide into their first rides.
The guys at South Bay are also super nice. If in doubt about this pick for your first stick, drop them a line and they're usually happy to help with more info and tips.
Huge volume.
Easy to paddle and catch even tiny waves.
Everything's in the box – open and you're ready to surf.
It's not the best looking board.
Stock isn't always available.
Too often do we hear surfboard shops go straight to the hefty foam boards before even asking what an aspiring surfer wants out of their surfing. Some of the best advice we've heard given came only after the assistant had quizzed the buyer on where they really want to be on the wave; what sort of surfing they're interested in. Thing is, most foam boards are great gateways to getting 'out back' because they bring lots of volume and more paddle power from the length. That's actually almost what a longboard will give ya', so it follows that you might want to cut out all the middle sticks are go right for the 9 footer to begin with.
The Torq standard longboard is a fantastic option for dipping your toe in the world of logging. It's availably in 8-foot and 9-foot lengths, and comes with beautifully slender profile that draws a lot on the West Coast Malibus that are beloved of retro 60s surfers. The epoxy keeps it light, there's a three-fin set up, and the rails bend in nicely to add some manoeuvrability. There's also that square end, which helps with hard-push bottom turns, something learners will need to get used to fast.
The obvious downside here is that longboards in epoxy aren't necessarily built to be thrown around in the shallows. These guys will get scratched and banged in ways that foam could handle. That said, Torq have mitigated that with their trademark Shield Skin lining, which they say makes these bad boys "bombproof."
Can be your board all the way through to longboard stardom.
It looks lovely, don't you think?
Shield Skin does help with keeping it protected.
Won't take a battering like a foam board.
9 footers are in demand, so sell fast.
---
We might use affiliate links in this post. Basically, you click em' and we get a little something from your booking or purchase. They help us keep offering more and more in-depth surf guides to awesome places all around the globe. So, thanks for that!