Check out our top picks for the best intermediate surfboards in 2023. It's all about the boards that can pick up with the big foamies leave off, for when it's time to start engaging those rails, rocking bottom turns, and getting down the line.
We might use affiliate links in this post. Basically, you click em' and we get a little something from your booking or purchase. They help us keep offering more and more in-depth surf guides to awesome places all around the globe. So, thanks for that!
So you're on the hunt for the best intermediate surfboards, eh? Perhaps a congratulations is in order? Is the big, fat foamie from your beginner days finally on the back burner? Are you paddling past the whitewash to the green waves with a smirk from ear to ear? Good job.
Thing is the intermediate stage of surfing is just like the intermediate stage of skiing, or learning a language, or…pretty much anything. It's long. It's where the vast majority of surfers find themselves, either at the lower or upper end of the intermediate spectrum.
But it's also the stage where you start to get having real fun. Turns, cutbacks, bigger waves, hollow conditions – this is all the province of the intermediate surfer. What's more, there's a whole kaleidoscope of boards and board styles out there to suit this soldier of the sport, the salt of the salty surfing earth if you will.
This guide dips its toe into the vast array of mid-level boards to offer a selection of the best intermediate surfboards six that we think stand out. We've gone for an array to suit a whole medley of different riders, no matter whether you find yourself a new paid-up member of the middle cohort or a would-be pro pushing the boundaries of the top.
A quick-jump guide to our best intermediate surfboards for 2022
Best for: A top all-rounder
There are plenty of board models out there competing to be the ideal first shortboard for riders who've just graduated off the beginner eggs and foamies. We could just as easily have plumped for the slightly fatter Modern Highline or the versatile Channel Islands Average Joe here, since they fill pretty much the same hole in the market. However, we like the ever-so-slender trim of the Reload 2.0 from Fourth.
There are a few reasons. First, it retains a full outline shape but the apex has been shunted ever so slightly forward, which helps to mitigate the drop in volume and keep the paddle power going. That means you should still find it easy paddling into sets but, with about 7-10 litres less mass in there compared to the peers, you also get more maneuverability when you are up on the wave face. Second, there's a round-pointed nose type and a mid-rocker, which is the optimal setup for grovelly summer days and smaller waves, but also plenty enough for turn engagement when it gets large.
The fin system is five plug but we'd set up as a thruster three-fin just as you come into intermediate. That should help you get used to that rounded tail, which is a strong, biting turner on steeper wave faces. Later on you can switch to the full five and the Reload will engage more like an advanced board.
Overall, the Reload 2.0 ESE is spot on for riders looking for something to carry them through from lower intermediate to advanced. It's forgiving but responsive and built to hit that sweet middle of swells – from anything two foot to eight. It's also mega light.
Best for: Lower-intermediate surfers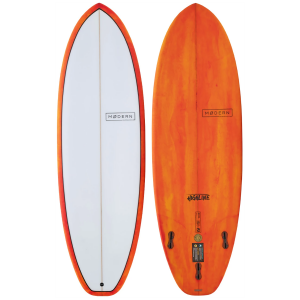 Highlights
Big volume
Wave-catching machine
Doesn't mind small surf
We've already mentioned how the Modern Highline could easily have made it to the top of this list of the best intermediate surfboards for 2022. That's for good reasons. The Surf Atlas co-founder Joe got one of these three years back to get something for those all-condition days of half mush, and to carry him through a month in Sri Lanka (a famously soft and mellow destination). It checked all those boxes and then some.
At a boat-like 54 liters on the 6″8 model, the Highline certainly has the fat to carry you through. On top of that, the nose is a neat hybrid shape that starts off eggy and ends with a neat point at the front. Combine that with a square back to bobble over less-stable parts of any wave and we think you've got just about the most forgiving set-up you can ask for. It won't go like a rocket but it will be a trusty soldier for almost any conditions.
The downside here is that you're going for a pretty hefty board in terms of volume, which is why we'd say this is for those who've only just about graduated up a notch. You're also limited to a three- or two-fin setup.
Best for: Bigger surfers and those moving down from logs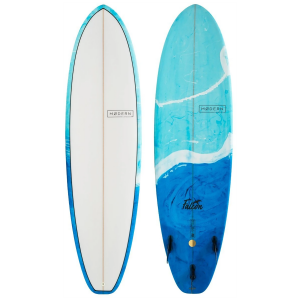 Highlights
Good for larger surfers
Great paddle power
Rocker that's suited to wave variety above all else
From the Highline to the Falcon PU, Modern manages to do it again for the intermediate cruisers with this mid-length. One look at the rail-to-rail rocker and the tapered tail and you'll be thinking it's designed for one thing: Versatility. And so it is that you'll squeeze mega fun out of this board, which channels a touch of the slimline minimal and packs it into a weighted Polyester construction that will work in pretty much anything over 1.5 foot.
There's bags of volume here, but it doesn't come from fattened rails. Instead, it comes from an added egg-ish element to the nose and a wider base, which means you're not sacrificing agility and have the edges to really start having a go at steeper, hollower waves, all without sacrificing buoyancy.
That should make an especially noticeable difference for bigger surfers looking to make the hop up from massive foam construction starter boards, since there's a touch extra bounce in the body here. But it's not only for the bigger boned. There's speed in that slender rail orientation that means this is also a fun down-the-line board for those who like to push the meters per second count.
Best for: Surfers who have a local spot that gets mushy
The Channel Islands Average Joe was designed specifically for ALL levels in mind. A whopping 47 litres of volume in the six-foot fibre models made the original a doozy for people in the 70-90kg range looking to hit that magic 50% volume ratio – generally considered to be ideal for practicing new turns and whatnot in differing conditions.
This iteration is a collab between EPS-core maestros Tuflite and the original manufacturer and we have to say it's made some nice changes that bring the Average Joe more into the niche intermediate scene. The reason? Well…this one comes in 5″3 and 5″7, so you're going to be trimming quite some length from the minimals you've been practicing on up until now. Don't worry about that too much, though, because that hike in volume means you should still feel plenty of buoyancy.
There are two things that we really like about this option: The lightness and the profile. They combine to make it easy to handle and good for small-wave conditions and unruly sets. It's been the called the perfect board for all-levels, yes, but we'd add to that perfect for Gulf-side surfers, Florida mush, and the European summertime.
Best for: Casual cruisers – and it's ladies only really
Now, it might be that you don't want to use that newfound intermediate tag to start ripping squiggles in the water and chasing Ments barrels. That's okay. Surfing is supposed to be fun and there's plenty of fun in cruisy peelers. That's where this new model from Salt Gypsy – a company that specializes in creating shape for "savvy female surfers" – comes in.
Available in sizes between 6″4 and 7″4, it's a bridge between shortboard and minimal that's tailored to the smaller surf. Really, though, it's a stick for people who aren't all that technical about their surfing and just want to get down to the art of it.
A full rail and a nice fatness keep it buoyant and untiring to paddle. The round tail gives it that easy-going cruisy feel when you engage the turn. And there's still enough edge to it for rounded bends in the water if you do fancy drawing some lines. Salt Gypsy also get kudos for designing some of the nicest looking pieces we've seen for some years.
We'd rate this one as one of the best intermediate surfboards for those attracted to that middle chill ground between longboarding and shortboarding.
Best for: Those who want to experiment with different fin configurations.
The Pyzel Gremlin was crafted to suit all levels on the days when the waves aren't as straight or glassy as you might like. That says to us that it's likely to be a decent intermediate board that can deliver volume and maneuverability, so long as you get that sizing right. Thankfully, that's not really an issue since this bad boy comes in sizes from 5″4 up to 6″2 with increments of about two liters of volume along the way.
If you're only just entering the intermediate stage then it's best to go for a model that's about your height (ie. a six-foot surfer goes for the 6″). That offers a good width of 20 3/4″ and a volume that's certainly on the beefier size at 36.5. Those higher up in the intermediate range can trim off length accordingly.
We do like that you get the option of switching to a five-fin setup here. That's great for those who really want to push what the rails and speed profile can do when they start improving. We'd usually surf this as a three-fin thruster, though, which should help slow it down a touch to make the most of those smooth, easy-engage rails towards the top end of the board.
Best for: Those who like to know they can push it if they want to
Highlights
The ultimate anything board
Responds well when you improve
Flattened rocker for more paddle power
Lost set the brief: Build a fish board with the potential to be a groveller for rippers but a regular ride in the mushier stuff for older veterans without the same paddle power they had in their 20s. Shaping legends Mark Richards and Matt Biolos took them up. The result: The Lost x MR California Twin.
You'll notice that it still has the zig-zag rails of the old-school Lost Mayhem boards. They've been tempered with a few subtle touches. The rocker is flattened for extra glide and paddle ability. Some extra couple of inches have been added to the swallow tail, dragging it out to provide some more stability in the wobblier stuff.
What you get is an all-rounder with hidden guts. Push it or don't – the choice is yours. If you do turn the throttle on then this one can handle the whole shebang – cutbacks, airs, whatever. If you don't then it's a good cruiser that's happy to glide in an out of pockets for more mellow rides.
---
We might use affiliate links in this post. Basically, you click em' and we get a little something from your booking or purchase. They help us keep offering more and more in-depth surf guides to awesome places all around the globe. So, thanks for that!