Looking for the best surf poncho for those changing sessions this season? Look no further – we've got the lowdown on what we think are the top buys right now.
The surf poncho never really used to be a thing. We can't believe that we went so long with freezing kneecaps and chattering teeth before they came along. Nowadays we'll even swerve the car around and return to the lockup if we forget one of these. Such is our aversion to changing in the open air as Mother Nature intended. Seriously, though, they make the life of a surfer a whole load easier. They offer a comfy place to swap your threads for your wetty and back again, without revealing any unwanted backside to the parking lot while you're at it!
The market is now packed with all sorts of ponchos. They mainly fall into two groups: the winter poncho and the summer poncho. The first come with a thick thermal outer layer that's typically got waterproof ratings and thermal inlays. The latter are simpler (and cheaper), most often made of towel material to help you dry off as you change. Our list of the best surf ponchos for 2022 has both!
We might use affiliate links in this post. Basically, you click em' and we get a little something from your booking or purchase. They help us keep offering more and more in-depth surf guides to awesome places all around the globe. So, thanks for that!
A quick-jump guide to our best surf poncho buys…
Northcore Beach Basha Pro – Our overall best surf poncho for 2022
There's a reason why surf ponchos are suddenly the thing that everybody wants. That reason goes by the name of Northcore. Yep, this perennial surf brand changed the game in the changer world then they came out with their line of robes a few years back. It suddenly seemed like everyone and their dog had one of these bad boys. And we think the all-new Basha has gone one up again for 2022…
The Basha is a full-body, hardcore changer with features that leave other brands in the proverbial dust. Let's break it down in bullet point form cos' there's just SO much to get through:
Velcro connections – these let you completely detach the inner lining of the robe so you're left with a towel-material changer. It's basically two robes in one. One for the summer; one for the winter.
Rust-free zips – The whole zip is not only chunky (AKA easy to fiddle with when your fingers are as cold as ice) but also made from adapted plastic to be 100% rust resistant, which is important when you're taking it to the beach everyday.
Breathable, water-resistant outer layer – Northcote trump the whole field with their tech here. The outer layer is heavily insulated against wind, but also has 5000mm water resistance and 5000g breathability rating. To put it simply, you'll be dry but won't sweat!
We could go on but suffice to say there are many reasons why this one beats the bunch to be our overall best surf poncho for 2022. In fact, we'd recommend it to non-surfers just as much as surfers. We love wallowing around the beach on a December morning with this on. It's better than most of our coats!
4-season poncho that has two fully detachable layers
5000mm water resistance and 5000g breathability rating
Rust-free zips
Voited Premium Surf Overcoat Changing Robe – A fantastic alternative to number 1
Voited are one of the new kids on the block when it comes to surf-outdoor clothing mashups. They are also one of our mega favs right now. We've had this robe and a pair of the Voited basecamp-style slippers keeping us toasty throughout the 2021/22 winter and boy are we delighted with them. They fuse together a couple of things that we really like to see: A dedication to sustainability, a focus on community and ethical sourcing, and high-performance wear for a versatile range of situations (you can check out their mission statement if you don't believe us!).
When it comes to surf changers, Voited have gone the whole hog with this beefy piece of kit. It's a thick, overcoat-style changer done in the style of the classic dry robe. That means you can sling it on and off like a jacket, no catching your ponytail (or manbun) and getting tangled. There are also deep pockets for storing car keys, phones, and the like while you pull on the wetty, along with a baggy hood for storing wet hair once the surf's over.
But, really, it's the tech that makes it stand out. It's got a solid 50-denier material all over for added warmth and a hardy Teflon EcoElite coating on the exterior that all but kills most wind bar full-on gales. The piece is waterproof to 2,500mm (AKA more than most trekker tents) and comes with an uber-cozy Polar Fleece in the hood and up the key panel areas. It's been a joy wearing it this year. A real joy.
Very solid thermal credentials
Eco-friendly build
Extremely good at keeping you toasty on winter changes
It's not cheap
Not great for drying off – it's very much a changer robe
FCS Towel Poncho – The best for drying while you change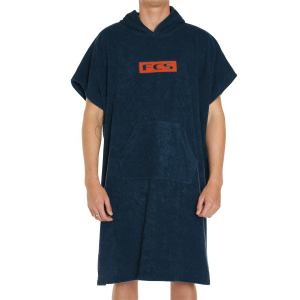 The idea of a surf poncho was actually hatched when some clever old ripper thought – "hang on, why isn't there a towel that we can wear while we change." The aim was to come up with something you could dry yourself with while swapping the wetsuit for the clothes. These days, those sorts of ponchos have been all but usurped by the jacket-style dry robes that offer everything from thermal insulation to wind protection.
Now, there's a very good chance that you don't actually need all those bells and whistles. For example, you might only surf in hot locations where there's no need to fend off sub-zero winds. Cue the FCS Towel Poncho. It goes back to basics by stripping away all the fluffy thermo liners and wind cutters in favor of a smooth towel material. It's simply designed with a hood and center pocket for holding the keys, and is made 100% from absorbent terrycloth.
We plump for the FCS version of the towel robe because we've had one in the past and loved the durability. Some others ripped at key seams and went real hard over the course of just one season. This one proved to us it can handle the tos and fros of daily surfing.
Absorbent towel material
Lets you dry while you change
Made by a trusted surf brand
No thermal layers
No wind protection
Slowtide All Day Microfiber Poncho – A lightweight poncho for travelers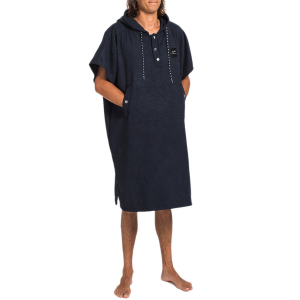 With weight limits on flights what they are and no one in the mood to pack 5kgs of uber-thick poncho whenever they head off on that next surf trip, there's definitely a reason to consider something along the lines of the Slowtide All Day Microfiber Poncho. It's made from the same material as those fast-drying travel towels. That means it folds up small and hardly weighs more than your usual beach blanket.
Slowtide have also given it a sand-resistant covering that means you can plonk down on the beach and not worry about taking half of it home with you. We also love the nifty button fit that makes it a versatile poncho that will suit a lot of body shapes and cut across genders. It only comes in dark black/graphite colorings, but it looks darn slick and very easy on the eye if we do say so.
Quick drying
Lightweight, so good for surf travels
Very stylish
Too thin for cold conditions
Not many sized available
Slowtide Joaquin Changing Poncho – The coolest changing poncho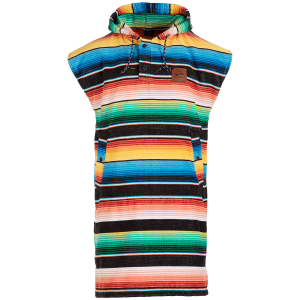 Sometimes something comes along that might not do its fundamentals better than another product but it's worth a mention just because it's so darn handsome. Enter the Slowtide Joaquin Changing Poncho. Call us Joni Mitchell if you like, but we think it's da bomb. Just check out those Mexicana stripes, the bold colorings, the twizel pulls on the hood area. Full disclosure: We don't have one. Yet!
More to the point, this one's not just on our list of the best surf ponchos for 2022 because it looks nice. That helps, but a lot of the kudos given here is down to the inclusion of full-fibre terry cotton that's ultra-soft and sourced through the Cotton LEADS (a program that ensures sustainable clothing chains). We also love that the front pockets come with handy snap buttons to keep the smartphone safe while you change.
Super looks
Sustainably sourced cotton
Snap buttons on the front pocket
A bit bold for some
Short sleeves, so not great for uber-cold locations
---
We might use affiliate links in this post. Basically, you click em' and we get a little something from your booking or purchase. They help us keep offering more and more in-depth surf guides to awesome places all around the globe. So, thanks for that!