Check this guide to the best summer wetsuits for 2023. We've got the shorties and steamers that we think are prime for the hotter months. And – for this year – we've put a special focus on price (cost of living crisis and all that) and eco-friendliness (because our oceans need us!).
We might use affiliate links in this post. Basically, you click em' and we get a little something from your booking or purchase. They help us keep offering more and more in-depth surf guides to awesome places all around the globe. So, thanks for that!
Temp check. What's that? 62+ (that's anything over 16 C for our Euro readers). Wahoo! It's 3/2 time.
As May turns to June in the Northern Hemisphere and the H2O begins to crank up the heat, surfers everywhere are preparing to cut the thickness of those suits. The same goes down south, in New Zealand and SA, when the winters take over up Nazare and Cornwall way. It's undoubtedly a joyous part of the year, adding more flex to your paddles and more freedom to the surf experience. We love it. It's hard not to.
But what are the best summer wetsuits out there right now? Which wetsuit brands are making waves in the market? Who's got the hottest new eco neoprene or the most light-weight Yulex rubber cuffs?
We're here to help with all that. This guide runs through a couple of what we think are the creme-de-la-creme of the current summer steamer offering. There's something for a whole host of runners and riders, recommended by our in-house team who are, in all honesty, just happy not to be shivering any longer!
We might use affiliate links in this post. Basically, you click em' and we get a little something from your booking or purchase. They help us keep offering more and more in-depth surf guides to awesome places all around the globe. So, thanks for that!
A quick-jump guide to the best summer wetsuits for 2023
Best summer wetsuits for men
Best summer wetsuits for women
The best summer wetsuits for men
XCEL 3​/2 Infiniti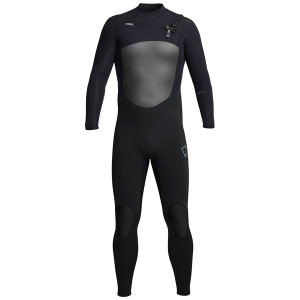 Highlights
Official Wetsuit of the Year range
Lots of features that keep the vast majority of surfers happy
Channel Flex is great for surfers who paddle and turn a lot
Best for? Really all surfers!
When we dragged on the XCEL Infiniti winter suit this past cold season, we felt like yelling, "ah – they've done it again". We later found out that the long-running range had garnered the prestigious Wetsuit of the Year accolade at the Surf Industry Manufacturers Awards (SIMA). At least we know we're not alone in falling in love with this particular piece…
The Infiniti is a sort of sit-between that runs alongside the Comp and the Comp X suits that form the higher end of the range from XCEL. However, it's a bit more of an all-rounder than those performance models in our opinion. One industry Mag even described it as the "Golf GTI" of suits. The reason? There's lots of focus on what the everyman surfer wants. AKA: Strong thermal features meets loads of flex.
You're sure to feel comfy thanks to the Channel Flex addition. It's a crosshatch woven fabric that brings lots of fibres at different angles running against each other. The result? A very bendy wetsuit surface that will fold that way for your next duck dive; this way for the drop-in. Radiant Rebound – a metal-like interior lining – is another thing that works almost without you noticing, but it does add considerable warmth on the key panels, making this a good choice if your water stays cold even into the summer months.
Basically this is the sort of solid buy that will last you several summer seasons and check all the boxes. You really can't go wrong.
Vissla 7 Seas 3​/2 Chest Zip Wetsuit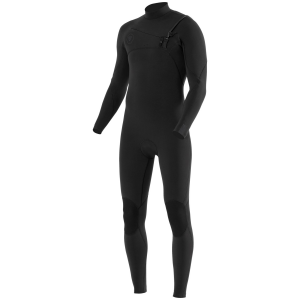 Highlights
Very stretchy neoprene
Seems lighter than other 3/2s
Chest entry and good body contours
Best for? Really all surfers! This could easily have been our top pick.
There's a constant debate going on at The Surf Atlas as to who wins out when it comes to the top overall wetsuit brand. Two big names are always up there – Xcel and Vissla. Let's put it this way: This OC-based outfitter out of Aliso Viejo, CA, has a very loyal following and we can see why. They basically make fantastic suits, all of the time.
More than that, when it comes to neoprene for the warmer months of the year, we think they're a trick ahead of the pack. Vissla's Japanese limestone-based material is air-bubble light and feels, at least to us, just a little more flexy than other stuff at the same price point. We said all this for our write-up in 2022 and it rings true this year. Mhmm…most other brands are still playing catch up.
The quality here can probably be put down to the manufacturing principle – Vissla try to offer "everything you need in a wetsuit and nothing you don't". They don't faff about with gizmo marketing tech. They stick to their tried-and-tested Super Stretch outers and that Brain Fuzz thermal lining, which is thinner but just as toasty as most of its competitors.
More generally speaking, the 7 Seas has established itself as one of the go-to midrange and flagship options on the market today. At just a touch over $200 apiece, you can spend a whole load more on gear if you'd like. But we'd ask why bother? You're getting all the bells and whistles in a steamer that looks pretty slick and fantastic here. Oh, and did we mention that it takes like 20-30 minutes to dry in warm weather. Just hang it off the back of the van.
Billabong 3/2mm Absolute Highlights
It's cheap, cheap, cheap
Great durability
Short-sleeve construction for added range of movement
Best for? First-time surfers
When Billabong thought up the Absolute range the aim was to create a premium suit without the premium price tag. On the whole, we'd say they've done a cracking job of that. Yes, we often pull one on in rental outlets whenever we're over Europe way (they seem to be all the rage in Portugal and the bargain hire shops of Hossegor) and find ourselves thinking "jeez this is stiff." But 10-20 minutes into the surf that neoprene really loosens up and there's very little sacrifice with thermal insulation to boot.
We're not going to start spinning off the tech like you're buying a £300 flagship here. You aren't. This is a simple, less-is-more option for surfers on the hunt for something solid that will not break the bank. That's what you get: Superflex fabric that's good for medium-length surf sessions, a Silicone Stretch lining to give versatility to the fit, and even a nod at new environmental concerns with partially recycled fabrics. Not bad at all for just a whisker over $150 (130 quid or so)!
XCEL Comp X Short Sleeve 2mm Fullsuit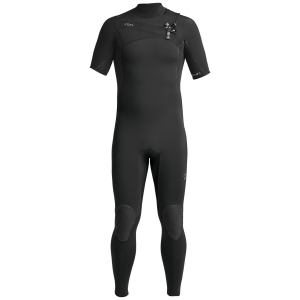 Highlights
2mm all over makes it good for warmer destinations
Great durability
Short-sleeve construction for added range of movement
Best for? High performance surfing in places that get very hot.
Some of us simply won't surf in anything other than an XCEL. Once you get a feel for the unique form of their tech-heavy suits, it can seem like nothing else will do. That's certainly where our surf writer Tom Lacmundy is right about now. He says "the Xcel Comp is the pinnacle of summer surf suits and it's been my choice on the French Atlantic coast from May to August virtually every season for the last three years".
Big words. But they come backed up by some nifty technology, which is precisely what you'd expect of the top-of-the-range suit from the Xcel flagship. You've got the Thermolite linings, which harness body heat to get the inside membranes of the suit nice and toasty, nice and fast. On top of that, there's trademark Xcel Japanese limestone, which we don't find quite as light as Vissla's but is probably a touch more durable. Swings and roundabouts, eh?
How it's put together is the real key of the XCEL summer model, though. This is one beautiful aesthetic of a suit, with a single front panel that helps to maximize your range of movement. There's also blind-stitched seams throughout and a lovely, silky-feel that's a godsend for anyone (AKA me!) who's prone to neck rashes after long sessions in the sun.
Another main reason the Comp reigns highly on our list of the best summer wetsuits for 2022 is that it's 2mm all over. It's thinner and lighter than its 3/2 compadres, so it's a great choice for the warmer summer destinations that still require neoprene – Portugal, Spain, Baja. That's also backed up by the short-sleeve construction, which makes it perfect for places with less summertime wind.
XCEL Axis X 3/2mm Back Zip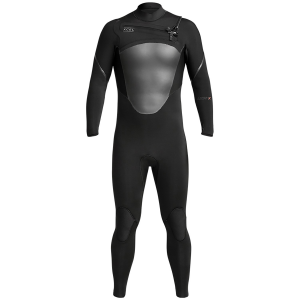 Highlights
2mm all over makes it good for warmer destinations
Great durability
Short-sleeve construction for added range of movement
Best for? Value for money.
When it comes to sheer value for money, we think you'd be hard pushed to find any wetsuit on the market that can even come close to the XCEL Axis X in 3/2. Yes, there might be some marketplace second-hander that's less. But don't lose sight of the fact that the limestone neo that's used in these models is the very same stuff that's used in the $350+ suits that sit at the very top of the range. It's a no-brainer if you're after something very high performance with a mid-range price tag.
We sure you've heard us gush over the quality of the XCEL rubber before – this is the brand's third suit on this list, after all! We won't bore you with that love-in again. Suffice to say that it hits that perfect balance between flex and thermal properties and allows for a fantastic range of movement. On top of that, you'll get flatlock seam construction to keep the suit nice and trim, along with good transitions from the 3mm and 2mm panels.
Downsides here are that the suit rarely seems to be in stock (high demand, eh?) and that it can take a little longer to dry than other XCEL models. Also, don't go thinking this is a forever suit. It's not. A few seasons at most. The back zip aspect is a debatable one, but for us just means that the suit comes in better for surfers between sizes and towards the more beginner end of the spectrum.
O'Neill 3​/2 Reactor II Back Zip Wetsuit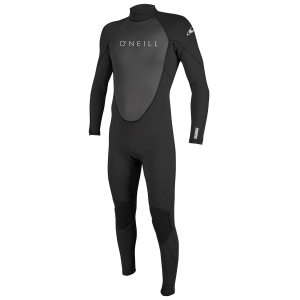 Highlights
Graphene-coated yarn to increase warmth
Affordability
Great entry-level suit
Best for? Beginner surfers
If you're watching the dollars and cents but still want in on the action when it comes to the best summer wetsuits for 2023, we really don't think there's much scope to go wrong on the O'Neill Reactor range. For starters, the name's been around since, well, the very beginning of wetsuits. What's more, they are among the most solid entry-level products on the market and have been for some time (not to mention that O'Neill produce consistently reliable higher-end suits to boot).
Okay, so the price point isn't going to quite beat a $100 second hander, but you will feel the benefit from the wind-proof Smoothskin tech that helps to cut out gusts when you're practicing the pop up out in the ocean. . That will trap in the warmth and means the suit does a good job during those summer onshore sessions. You also Krypto Knee Padz, which really is something that should appeal to starter surfers who might spend a lot of time in contact with rough foam decks or hard epoxy.
We also find these O'Neill Reactor suits to have a generally all-round standard fit. They are tight (we wear medium-tall but are probably more towards the medium side of the scale) and come in like a glove if you're a skinny surfer (ya, we need to eat some more Danishes).
XCEL Axis 2mm Short Sleeve Springsuit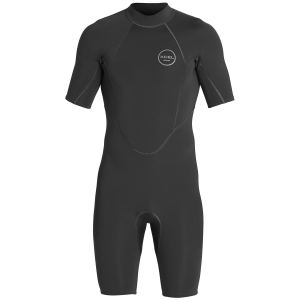 Highlights
Best pick for hot weather
Uber flexy
No front zips for the bodyboarders
Best for? Places that get pretty hot in the summer.
Sometimes when things get super hot in August and September, you need even less coverage than you might of thought. These are the days we dream of, when the surf sunscreen is scrawled over the skin and the rays are beating down. AKA – shorty time.
A shorty is essentially everything you get in a standard summer suit, only the arms or the legs have been lopped off. Nope, it's not down to an unfortunate factory mishap. It's to help with heat management in the hotter destinations – places like Portugal, Morocco and Mexico – where the ocean still calls for neoprene but the mercury likes to soar.
As shorties go, we simply can't shake our love for the XCEL Axis. It's got a hint of the tri suit or diver's suit about it, but there's mega flex involved and the whole thing comes in at sub-$100. We also like that it's back zip to keep things flat on front for the foamers. Oh, and it has the trademark Performance Stretch Neoprene from XCEL stretchier than a rubber band that stuff!
The best summer wetsuits for women
Sisstrevolution 3​/2 7 Seas Wetsuit
Best for? Sisstrevolution make the best summer wetsuits for women right now in our opinion.
If the XCEL ranges are currently ruling the roost for the boys, there's probably only one brand that can match up to them on the female side of the industry. Cue relatively-new-to-the-market Sisstrevolution. An offshoot of Vissla and based out of sunny California, they're in a good place to create some seriously groundbreaking stuff. And that's precisely what they've done…
The Sisstrevolution 3​/2 7 Seas is a gorgeous all-rounder of a summer suit for women. It adds curved body fits to panels of soft limestone neoprene that's eco-friendly and very stretchy. There's Glideskin on the neck for extra comfort around high-contact zones and you'll definitely feel the protection from the Supratex knee pads, which are well hidden in the body of the suit.
We also reckon the Sisstrevolution also look fantastic. The 7 Seas version is also available in plain, slick black, or there's a floral panel version with something to look at on the uppers.
O'Neill 3​/2 Reactor II Womens
Best for? The women's entry level suit for beginner and intermediate surfers.
The O'Neill Reactor has already had an honorable mention on our selection of the best wetsuits for men above. It's got the same here, coming in as a forever-reliable entry-level steamer that should carry most beginner surfers through their first few warm seasons and then some. The key here is less is more. Simplicity reigns supreme with single chest and back panel construction, coupled with an easy-pull zip for quick closing and fast changes.
While it might be on the budget end of the spectrum, the Reactor does have some nice tech. Ultraflex Neoprene means there's some good movement range in there. And then there are the Flatlock Seams, which will help the suit stay new for longer by minimizing contact zones on the foam or epoxy.
We won't wax lyrical too much about this one. At heart it's a simple wetsuit that comes in at a happy price point. We've used many in our time and they are still our No.1 recommendation to starting surfers looking to get serious.
What exactly is a summer wetsuit?
The truth is that summer wetsuits aren't all that different to winter suits. Basically it's all about the thickness of the neoprene or natural rubber that's used in the suit construction.
Suits for cold-water surfing tend to have at least 5mm to them. Fall and spring suits compromise with 4mm. Summer suits all start at a thickness of 3mm. That might not seem like much but it makes a whole load of difference to the weight and the flex of the product, so you'll be surfing better and for longer. Or at least that's the idea.
What temperature do I use summer wetsuits in?
Generally speaking, summer suits should be used in waters with temperatures of 16-22 degrees. The hotter the water, the more you're likely to be able to switch to a shorty (a type of summer suit that has no arms/legs). If it's your first time buying a suit for the warmer months, we'd stay stick to a 3/2mm full suit – that's the standard across the board and offers the most versatility overall.
---
We might use affiliate links in this post. Basically, you click em' and we get a little something from your booking or purchase. They help us keep offering more and more in-depth surf guides to awesome places all around the globe. So, thanks for that!