Looking to keep the hands warm this winter? Look no further than this ultimate guide to the best surf gloves for 2021/22.
Every seasoned surfer knows that the first places where the cold water will hit are the feet and the hands. When the H2O dips to the 40s and the 50s in the PNW or over in New York, long boarders, shortboarders and everyone in between will be looking for new rubber to keep the digits and the toes warm. Yup, surf gloves are an essential piece of kit for those who like to surf the full four seasons, especially as some of the finest storm swells only hit California or the Eastern Seaboard when it's chilly.
Cue this guide to the best surf gloves for 2021/22. It's been curated by our in-house gear experts and contains recommendations that are not only cracking for keeping the hands balmy during those cold-season surf sessions but also pretty easy to get hold of with just a click of the mouse. Enjoy…
We might use affiliate links in this post. Basically, you click em' and we get a little something from your booking or purchase. They help us keep offering more and more in-depth surf guides to awesome places all around the globe. So, thanks for that!
Check out our ultimate guide to buying all wetsuits and wetsuit accessories
A quick-jump guide to our best surf gloves
PRICE WHEN REVIEWED: $74.95
There's not much that XCEL can do wrong these days, especially not when we get a-talking about the Drylock range. It's pretty much changed the way we think about keeping the warmth in while wearing a wetty in the winter. The aim here is all about cutting flushing while adding intelligent thermal tech to the key panels. Cue these gloves, which manage that by utilizing a trademarked donut seal and coupling that with Celliant Black smart fibers.
If you've not yet used the Celliant Black stuff that XCEL is adding to its top-of-the-range wetsuits, then we'll just say this. It's warm. But, importantly, it also warms up very fast. That helps you dodge that five minutes of pain in the fingers when you paddle out for the first time. Another innovation that helps put these bad boys up there as the best surf gloves for 2021/22 is that Texture Skin lining. It's crosshatched and bubbled surface is superior at blocking oncoming winds, all while adding good friction to the board surface to keep you popping up right in sub-zero climes.
Generally speaking, the gloves are a middling 3mm. We think that's pretty good for the vast majority of winter surf sessions in the vast majority of places – not to thick, not too thin. They also follow the XCEL principle of being fast drying, so you shouldn't find yourself pulling on soggy mitts for two sessions in a row.
Overall, XCEL have created a solid performance glove that is suited to a wide range of surf locations in temperatures ranging from about 49-58; a top all-round choice for surfers of all levels. Expect to pay for the quality.
Celliant Black insulation that works a charm
Trademark cuffs that cut water flushing
Textured exterior panels that add friction and combat wind
PRICE WHEN REVIEWED: $44.95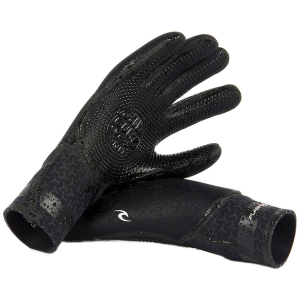 True to the Flashbomb style, Rip Curl have opted to go for a 3/2 construction here over a classic 3-mil all over. That hints that these gloves are more suited to performance surfers in the intermediate to expert end of the scale. We'd agree with that, and can report that we definitely feel a little extra sensitivity in the hand panels and more flex all round that we do with comparable models. To put it another way, these gloves might not be quite as warm as their compadres, but they bring more manoeuvrability when in contact with the deck and paddling in the water.
We don't want that to sound like we're knocking the thermal abilities, though. We aren't. The Flashbomb range has made a name for itself by striking a great balance between warmth and flex. That's especially true since the introduction of the E5 lining back around 2016. It's still going and is the powerhouse behind these gloves, which we'd say manage sessions of 2-3 hours with ease on the West Coast, right up to southern Canada.
The other features are pretty standard but nonetheless helpful. There's a sold gel palm friction pad that really helps to add friction on the rails, along with a tight seam construction that effectively cuts flushing water without too much hinderance of panel movement.
Very flexible
Affordable
Good gel panels for added friction on the board
More suited to upper-intermediate and advanced surfers
Some people might say they are too thin
PRICE WHEN REVIEWED: $75
There's absolutely no question in our minds that these Patagonia hand warmers are the best wetsuit gloves for the most eco-conscious surfers out there. This legendary outdoors company has gone to great lengths to add sustainability to the neoprene industry. They're solution? Yulex natural rubber, which comes from  Forest Stewardship Council-certified plantations of trees that are way more green than anything on the market right now. The whole process also makes use of water-effient dope dyeing and maximizes material usage.
But cutting the carbon emissions isn't the only reason that Patagonia's R3 wetsuit gloves make it onto our list. To put it simply: These are darn warm. The Yulex might make Extinction Rebellion happy, but it's also very efficient at retaining and holding warmth in the water, and we've used them in West Coast surf spots that drop to 45 and less, though the gloves perform best in locations between 48-59 F.
If there's a downside to the Yulex it's that we find it drys a touch slower than its limestone neo counterparts. To be honest, that's not such a problem with gloves as it is with wetsuit booties or wetsuits themselves, because you tend to pull these on at the last moment before jumping in the water.
The most eco-friendly wetsuit gloves out there
Amazing warmth retention
Nice design
Slower drying that other gloves
The price
PRICE WHEN REVIEWED: $54.95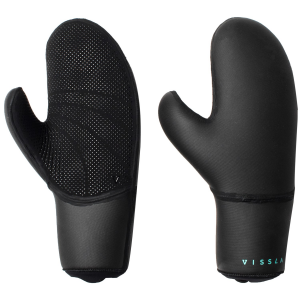 If the water you're planning on surfing is cold – like, super cold – then there are three things you can do about in the world of wetsuit gloves. One is up the thickness of the neoprene. The other is go for a mitten instead of a glove. And the last is go for a very high-quality rubber manufacture. These Vissla 7 Seas Mittens do all of the above!
We'll go out on a limb and say that there's hardly anywhere south of the Arctic Circle that could give these a run for their money, even on the coldest December days. They come with a fat 7mm of protection, have blind-stitched seams that keep the water from rolling in and out, and make use of Vissla's impressive hollow fibre inlays – like loft insulation but for your digits, folks. There's also a hardy Duramax Exterior, which we do find cuts the flex a little, but fends off wind like it's nobody's business.
Look, we're not going to recommend these if you're a casual surfer pretty much anywhere from the PNW down. But, if you're a hardcore wave chaser who cannot shake the idea of that put-hairs-on-your-chest Alaska romp each season, the 7 Seas mitts won't disappoint.
Very, very warm
Mitten construction makes them warmer
Vissla offers reliable neoprene
Are heavy
Designed for the coldest of waters
Price when reviewed: $29.95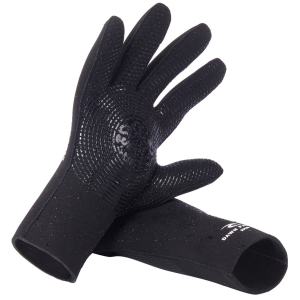 The Rip Curl 3mm Dawn Patrol Wetsuit Gloves cover all the bases without any bells and whistles. They also come in at under $30 a pop, which is great news if you're just starting out and thinking of dipping the proverbial toe in the proverbial winter waters. We don't just recommend them because of cost-value balance, though…
These are actually an all-round great surf glove that should keep you going for a couple of seasons. The Dawn Patrol range from RC places a heavy emphasis on heat retention, and they've managed that pretty impressively for the last few years running (we've surfed sessions of 1-2 hours in them no problem, and have used the booty versions extensively).
On top of that, the 2021/22 iteration comes with a pretty effective O-Ring Cuff entry that minimizes and the brand's well-rated Superstretch Neoprene, a good all-rounder for those just starting out. It's basically the dream glove if you don't want to spend too much but also don't want frozen fingers. They're warm, light, flexy, and not to imposing if you're not yet used to wearing wetsuit gloves.
Great entry level choice
Cheap
Not the warmest gloves out there
Not the flexiest gloves out there
---
We might use affiliate links in this post. Basically, you click em' and we get a little something from your booking or purchase. They help us keep offering more and more in-depth surf guides to awesome places all around the globe. So, thanks for that!